Bob Dhammi 2013 Champion Golfer and Season Review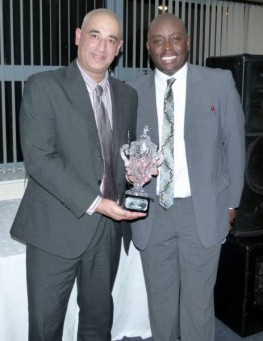 It was another anticipated start to a CGS season and by the end it would be a close run in for the 2013 Order Merit title.
The season opener was business as usual for the 2012 Order of Merit winner Frank McCook at Bransford where he captured the Fix-Up Trophy. Also at Bransford was guest Barry Smith who later became a member to challenge Dean Leith for the Founders Day title. Big Dean would book his place on the team for the renewed 3-Way match-up between London, Bristol and Birmingham.
Wins for Keith Salmon at Cleobury Mortimer and Ansell Pottinger at the challenging Swindon course guaranteed their team spots. Chairman Junior Harris predicted only a victory at Wharton Park would get him a place on the team and he went on to prove it.
The triangle match-up we call the 3-Way Match would prove a success for the stronger more experienced ACGA from London at Heythrop Park.
Mary Riley destroyed the field and set a CGS scoring record with 49 stableford points at The Shropshire, Ian Higgins returned to winning ways proving he's not just big hitter winning at Bewdley Pines.
The eighth and final major would be called the CGS Open Championship and was held on the two courses at the Hawkstone Park which was home to masters champion Sandy Lyle. Members and guests attended the two days with some members playing for the Order of Merit title. For some the pressure took its toll and they faltered but it was Dave Brown who played some quality golf shooting 36 points for both days winning the Open with 72 points. Unfortunately for Dave that he wasn't further up the order to take the title which eventually went to Bob Dhammi.
The final season event was the members Caricom Cup and again the Jamaicans came up short with a 4 & 2 loss. It's now three in a row so the Jamaicans need to improve.
It's been another successful year for the Caribbean Golf Society and with continuous interest coming from golfers around the country wishing to join or to just play with the society we won't be short for numbers.
The award for the champion golfer went to Bob Dhammi; he received his prize at our annual presentation dinner and dance, congratulations to Bob for a superb season of consistent golf. Bob won the title without even winning an event he just picked up good points every time he played. It's a lesson for us all that no matter how bad you think you're playing it's better to come 6th than 7th because in the end that extra place could make all the difference. So when the round isn't going well don't give up persist with the round because you just never know.