Season Ending Scramble!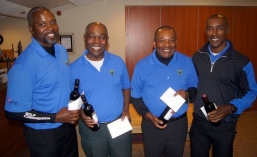 Thirty members turned out for our end of season Texas scramble fun day, the teams were randomly selected at our two day event held on the previous weekend. The weather was kind to us once again, although very overcast, the first group teed off at 11.30 in positive mood with Denny Senior strutting his stuff after out driving a teammate down the middle of the 1st fairway. It was my last event as CGS captain and it has been a thoroughly enjoyable experience – thanks guys.
I was in the 3rd group along with order of merit winner Howard Browne, George Oliver and Tony Sealey, our handicap of 6 meant every shot saved gave us a chance of pushing for the cash prize winner takes all. Birdies on holes 2, 5, and 6 put us in buoyant mood but a bogey on the 8th hole brought us back down to earth after all 4 of us found hazards on our second shots, it was a hole in which everyone would be looking to make birdie. With a gross 35 on our back 9 holes it would not be enough to get us even into the top three places.
Our Chairman Junior Harris told me that he was hitting monster drives which he had to pick up because of the format, which only allows for a maximum of six drives per person. Along with Mary Riley, Bob Dhammi and Emrys Karemo they did not score well enough to get a mention either, and the same could be said for the group of James Sanderford, Rhucha Ford, Lloyd Thomas and Martin Chidgey.
This left the second group out of Donald Campbell, Clyde Pile, Paul Ramsey, and Roan McLeod, whom his team members nicknamed the "Sniper" for bailing them out when all was almost lost on several holes. The group of Trevor Lammy, Keith Riley, Dave Smith, and Ian Higgins were the lowest handicappers at 5 and along with Jacko Powell, Carl Cunningham, Frank McCook and Ken Brown, made up the last of the 3 groups fighting for the top prize.
The day ended with just one shot separating the three teams, with the "Sniper" and his team coming out on top with the best Net score of 57 including the only eagle of the day on the Par 5 8th. The result pushed Trevor, Dave, Ian, and Keith into second on countback also with Net 57 and 8 birdies.
So congratulations to Roan, Donald, Clyde and Paul who share the £100 first prize and the usual bottle of wine each!
The curtain has now drawn close on yet another season of enjoyable golf by our members and guests.
Next event is our annual Presentation Diner and Dance evening to remind ourselves of the successes of the season.