10th Year Finishes with a Scramble!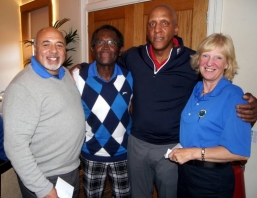 10 years of CGS golf has come and gone. This year's finale event took place at an old CGS haunt, Perton Park Golf Club, a club we played several events on in the early days. The course was in excellent shape compared to the last time we played, a lot of work had gone into improving the course and it showed.
On the day twenty-one golfers attended making up six teams competing for final season honours.
The order of the day was birdies, birdies and more birdies. If you wanted any chance of winning in this format you must score better than par. Along with the many birdies on the day there were a couple of eagles. On the par 5 third after a lengthy tee shot from Ian Higgins and after several attempts to reach the green from Ian and some of his team members it was down to Martin Chidgey who with a 5 wood was able to reach the green and with only a foot left for eagle tapped in to finish the hole in style. Amongst the other's out on the course the group containing Junior Harris, Nigel Harris and James Sanderford also posted an eagle of their own. The eagle on the 8th was much more impressive and was all down to the power showed by James, who hit a 3 wood from the tee and closed in on the pin using a 7 iron on what was a very long par 5, it was a very impressive display of long hitting.
Although not scoring an eagle the group of Micky Taylor, Mary Riley, Keith Riley and Dave Smith was also impressive, their steady play of seven birdies and no bogies was good enough to win outright by a single stroke from Junior, Nigel and James.
It was a very enjoyable day and everyone in attendance had a good time, this is a very good format to finish out the season.
Congratulations to the winners.