No trees! – Only Bramble at the Manor"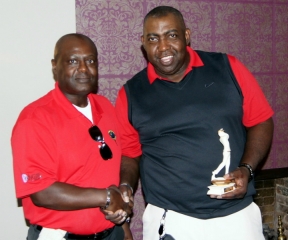 The second major of the season took us to Shakespeare's country and to Ingon Manor Golf Club near Stratford-upon-Avon. Again we were blessed with glorious sunshine which helped contribute to another fantastic day on the CGS golf tour.
Thirty six of us arrived at the club to a warm welcome from all of the staff – with the warm sunshine and CGS red shirts in abundance it was a truly impressive sight. The course itself was in good shape and proved to be a real challenge, testing everyone's ability to the max. Prior to the action members heard that last years 'Order of Merit' winner Carl Douglas had been admitted to hospital with a serious lung problem. A card was signed and all our best wishes recorded for Carl – a reminder to us all that golf is a game and that real life can deal us some really difficult times….
The longest drive hole was the 15th and despite the best efforts of other long hitters the spoils were stolen by an excellent effort from Ansel Pottinger – well played Ansel. The nearest the pin competition was saved for the 17th – a fairly short hole but over water. When the club captain Jacko Powell drops his tee off into the water you know things aren't as simple as they look. Well played Eric Queely who landed his pitch and wedge closest of us all.
With a course that really tested us there were some notably low scores – returns of 19 and 20 points were disappointing for members who know they can play better. However you can't blame the course when you see how it was tamed by the eventual winner. Recording a magnificent 41 points and playing fantastic golf all the way round hats off to Don Bramble our second major winner of the season. Don played exceptionally well having a 3 point lead over second placed, new member, Frank McCook. In third place a further point behind was David Brown – well done to the new boy, previous winners and champions will need to be on their toes to face the up and coming challengers.
Event Result:
Once again Jacko had us on our toes with the presentation – introducing another twist. Can we concentrate? Not after the challenge of Ingon Manor. I hope our counting is better on the golf course than it was with Jacko's little game. We warmly welcomed two guests Eddie Acheapong and Steve Smith to the CGS and hope they enjoyed their day with us and return to play with us as full members. And so it's off to our next challenge, Founder's Day at the Lickey Hills. Play Well.