Same result different year for ROTW!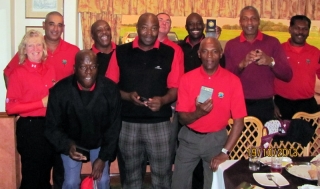 It was a pleasant day for the season ending Caricom Cup which this year was held at the Kilworth Springs Golf Club which was founded in 1993 and overlooks the beautiful Avon Valley in South Leicestershire.  The course is renowned as one of the driest courses in the Midland and is open 364 days of the year and truly is a golf course for all seasons.
This year's team captains were Bob Dhammi for the Rest of the World team and Frank McCook representing the Jamaica team.  There were no team selection issues for the ROTW captain this year with a full team of non-Jamaicans representing the team so no excuses for Jamaicans this time.
The only issue for the Jamaicans was their captain was unable to play so supported his team in Ryder Cup fashion by following in a buggy.
It was a positive start for several of the Jamaican groupings however some of the stand-out pairings in the ROTW team started to make a move which in the end proved decisive.  Pairings of Lloyd Thomas and Mary Riley who have yet to lose a match proved too strong for their Jamaican adversaries and retained their winning record.  Other strong match players for the ROTW team were the Harris brothers Earl (Junior) and Nigel and were too strong for their opponents.  Earl is creating a reputation as a strong match player, something for the Jamaicans to think about for next season.
The ROTW team proved too strong and won out the day with a 4 & 2 victory margins, it was only two pairings from the Jamaican side that saved a little face for the Jamaica team.  It's now three defeats in a row so work to do for Jamaica.