Denny makes CGS History at Cleobury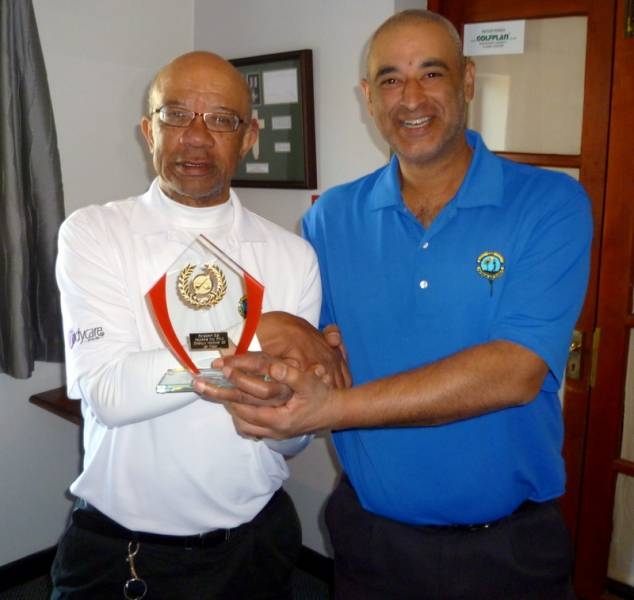 Eighteen members teed off at Cleobury Mortimer in glorious sunshine for the CGS 8th Founders Day. The format was medal stoke play, which means consistency was the order of the day, a double figure score could put you out of contention.
This was history in the making with CGS first ever two tee start on the Badgers Sett and the Deer Park 9 hole loops. Little did they know that they were to witness a historical event unfolding during the course of the afternoon?
Denny playing off his high handicap of 28 was grouped with 2 of the CGS big hitters namely Eric Queely and Vassel Brown playing off 6 & 9 respectively. Some might think he would have felt intimidated amongst this formidable duo, but it wasn't to be. Denny played confidently, showing the way with his best ever round.
Realising Denny was in contention for a trophy Eric and Vassel were full of encouragement, resulting in a 50 foot birdie putt on the par 4 twelfth. Even Chairman Junior Harris, who unfortunately couldn't play, due to an injury to his elbow, joined in with his support coming down the final holes.
Finally finishing with a nett 66 and being in the first group, Denny was the club house leader. Junior who had turned up to input the scores on to computer, I am sure all our members appreciate you giving up your time for the CGS cause.
As the remaining groups came in, Denny was helping Junior with the cards, anxiously vetting the scores. Finally when the last group came in, it soon became clear Denny's score was unassailable by a wide margin, beating Carl Cunningham by 6 strokes, with Alan Ferguson a further stroke a way in 3rd place.
By finally winning an event after 8 years and 60+ events of trying, Denny made history by being the only current CGS Secretary to achieve a hat-trick, being his first Founders Day and would you believe it his first birdie.
His presentation was greeted by a double ovation, orchestrated by Captain Bugsy, this epitomises the camaraderie and respect amongst the CGS members.
Denny will now need to rise to the challenge to win his 1st Major, after a massive handicap cut of 4.9 shots, but rule him out at your peril.
Denny would like to thank all CGS members past & present for their warm congratulations for achieving this milestone both on the day and afterwards by email, "nuff" respect to you all.
Finally the CGS would like to thank the staff at Cleobury for giving us such a warm welcome on this our 3rd visit to the Shropshire course, hope there will be a 4th, your hospitality is greatly appreciated.