Jacko returns to winning ways!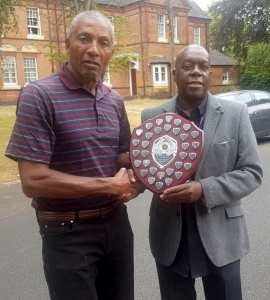 We returned to Bromsgrove for the first time since 2009, weather great, fairways parched, as is the norm for the summer we are having. The greens were good but slow with not a lot of movement but just enough to keep your focus. It was not one of our larger fields, only six groups teed it up.
In the 5th group which Ansel described as the gentleman's group, was Vassel Brown, Ansel Pottinger, Ronald Ross and Alan Ferguson. Both Ansel and Vassel were good off the tee, with Vassel shaping the ball to suit the shape of the hole with his driver. Ron was good on the greens, Ansel explored parts of the course that is not going to help your score and Alan managed to find bunkers wherever they were. Now back to the groupings and the CGS Achilles heel, slow play!
Ansel's group suggested that they started having to wait from the second tee. The fact that there are six par 3's may have contributed but on a short course like Bromsgrove (5724yds) a round should be around the four hour mark. At one point Ansel's group said they were thirty minutes behind at the first marker board, and that figure continued to increase throughout their round.
The scores were not high on the day, and with so many par 3's not a single two was recorded by the field. This season has seen the arrival of another Mr Consistent to rival our notorious Dave Brown, Carlton Donald who has played as a guest on many occasions before 2018 season and now a full member, has won two times so far this season and was close again finishing second.
Welcome back to the winners podium to Jacko Powell who was lacking confidence on the first tee but when asked to join the school after a good drive replied "that's only the first shot I have to hit another 97." The winner's scores – Jacko Powell 35pts, Carlton Donald 34pts and Eric Queely 34pts The Longest drive went to Keith Salmon, nearest the pin was Ken Brown and nearest the pin in two was Rhucha Ford. Our next event is Olton G. C.