Elford Doug deep to lift the Players Trophy at Olton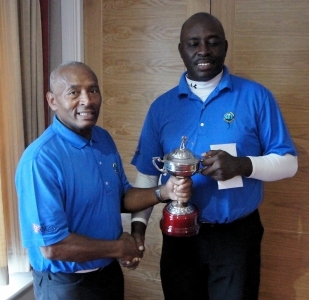 Olton Golf Club invited the CGS to play their course in 2017, we were so impressed with the course, hospitality and the surroundings that we decided to re-visit this long established local course in Solihull.

The weather forecast was for intermittent showers and with a 2 tee start, 27 golfers teed off with 4 groups on the 1st and 3 groups starting from the 3rd tee, all hoping to avoid any showers. Luckily for us the weather wasn't as bad as forecasted, with minimum rain throughout the round.

As I was making my way to the 1st tee, whilst passing the 3rd, I witnessed Emrys Karemo seeming to be having a bit of difficulty getting the ball off the tee with 2 failed attempts to hit the ball pass the ladies tee. I hope he didn't have do the customary when male golfers fail to pass the ladies tee, as it was in front of the club house! Maybe the patio banter in the background affected his concentration!

Considering the recent hot weather and the overnight rain the course was in good condition. But overall everyone enjoyed the day with all the groups finishing in a reasonable time, with no notable delays and no mention of slow play.

Although the numbers attending in 2018 compared to 2017 had fallen, it didn't seem to affect the competitive spirit of the CGS and banter that goes with it.

The final results were, longest drive going to Trevor Lammy, nearest the pin Ludlow Stewart, nearest the pin in 3 Dave Ward a guest player. The top 3 positions were as close as ever, coming in 3rd place was Ian 'Higgy' Higgins with a score of 35 points, in 2nd place was Trevor Lammy on count back with 35 points, the overall winner was our former Captain Elford Douglas who came in with 36 points, it has been sometime since his last win, well done Elford.

The 2018 Order of Merit after 6 events is slowly coming to a conclusion, with Chairman Junior Harris and 'Mr Consistency' Dave Brown slipping down the order after poor rounds. Micky Taylor and the new man on the block Carlton Donald took full advantage, with Carlton moving into 1st place, 24 points clear of Micky in 2nd. All to play for in the final 2 Majors, Good luck gents.

On behalf of the CGS, we would like to thank all the staff at Olton Golf Club for their warm welcome and hospitality.