Inaugural FOB Charity Golf Day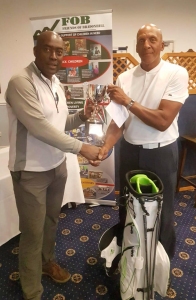 The inaugural FOB Charity Golf Day was held at Sandwell Golf Club in West Bromwich and was well attended.
Friends of Brandonhill (FOB) are an organisation which, amongst other things, aims to help support children in need in the Caribbean. The organisation also seeks to promote links between schools in the UK and the Caribbean.
FOB was founded on 10th May 1998 and is a society whose only form of income is donation based.
FOB's aims are to:
Address poverty amongst children in the Caribbean countries where possible.
Promote and support health awareness for children in need.
Help young people achieve independence through the power of education.
Promote links between Caribbean and UK schools
Support multi-cultural education in UK throughout the West Midland
A word from FOB event organiser Ronald Ross:
On behalf of the FOB committee, I would just like send out a special message of thanks to all the CGS boys who helped to make the golf day at Sandwell a success by your very presence.

They include the boys from Handsworth along with ex captain Gary, soon to be a member of CGS.

Must also thank them for the 4 ball voucher claimed by Mick Taylor? typical.

The boys from Envil Golf Club, much respect, team captain Paul and his merry men.

Sandwell boys, no thanks to Mick and Erick for embarrassing me,

by claiming most of the prizes on the day.

Sandwell bandits naturally and to include raffle prizes? Can you imagine how the others must feel.

Last but not least Denny and Dean for a full day service to the cause, you're a blessing boys. Individuals like Adrian and many more, you're all appreciated.

Special thanks must go out to all the CGS members who could not attend, but made a significant contribution towards the cause,

Finally to Sandwell Park Golf Club for embracing CGS members on the day, like never before.

Well done Sandwell and the club director Angus.

Love and respect to all.

Ron Ross