Nathan Burrows wins the 3rd CGS Major at Wharton Park Golf Club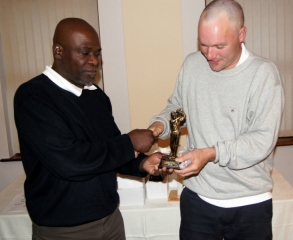 It was Wharton Park a course the CGS members love to play. With its slick greens and challenging layout, this was the 4th time this lovely course has welcomed the Caribbean Golf Society.
I was remembering the last time the CGS played and the trouble we all had with the speed of the greens, a little overnight rain was a welcomed site if only to allow the greens to be a bit more receptive. Well we got what we wished for. After some great weather for the last four weeks, the heavens opened up on the morning of the 3rd CGS major of the year. It was a site to see the practice putting green empty with everyone taking shelter from what was actually light rain, "come on guys remember this is England" or should I say Inglan!!
Well by the time the first group was due out the rain abated and everyone came out to get in some practice putting on what were still quick greens. Spirits were still high for the challenge ahead as the thirty six members and guests owned their short game skills on the practice facilities. This event is always special to the members and the word had obviously got around because we welcomed four new guests, whom we hope will return to the next event as members. Stephen Jacobs, George Sinclair, Chad O'Gardy and Paul Williams were all welcomed by the club Captain and Chairman as they made their way to the Par 5 first.
The first hole at Wharton Park is an uphill par 5 with out of bounds on the right. It's not a challenging par 5 but for the low handicap golfers it's a priority to keep the ball in play in order to score well on this hole which comes up at a stroke index of 10. For those players who's handicap is 11 and above the reward of gaining a net birdie and 3 points can setup their round.
Ian Higgins hit a long drive on the first hole, putting himself in prime position to attack the green which is blind from the fairway. Nathan Burrows pulled his tee shot left into the trees and had to punch out sideways, although frustrated with his tee shot, Nathan was able to compose himself and play some good excellent golf as the round went on.
The CGS two lady members Mary Riley and Lyne Webb enjoyed the day's event and played some excellent golf in the company of fellow members Ian Higgins and Steve Mullings and both returned scores of 33 points. Being in the company of Lyne and Mary this seemed to have an affect on Steve Mullings game play. Anyone who has had the pleasure of a round in the company of Mr Mullings will know that Steve can be very hard on himself if he hits a bad shot, his frustrations can and sometimes do continue and spoil what could be a good round of golf. On this occasion Steve was on his best behaviour and the result was a 40 point round which enabled Steve to take the runner up position for the event. Well Steve, does this mean that we need to group you with the ladies in future? Just remember this round every time you want to take a club to your head on a bad shot!!
Just in from Jamaica was CGS vice-chairman Ronald Ross, whom it seems, forgot to bring the weather back with him – "what happen Rossi" the sun get seize at customs!!
Mr Ross played some excellent golf and looked like he was going to be the man to beat on the day. Having had a lesson at his home course from fellow CGS member Michael Taylor, Rossi was executing the flat stick with a vengeance, however the rest of his game wasn't able to keep up with the putting and he was only able to produce 38 points not enough to get among the prizes. Also in the group with Mr Ross, was CGS guest George Sinclair whom had a horror of a start on the first tee with an "air shot". George was probably the only player playing without a wood in his bag. Without a doubt there were some nerves on the first tee like most golfers in the world have experienced, however in light of the first tee nerves George was later able to show what he can do with an iron and played some excellent tee shots and was also good with the putter.
Would you say that Wharton Park was a left handers or right handers course?…well Keith Salmon would say it's a lefty's course and he was able to prove that today with a solid score. Keith is a steady golfer and can produce some excellent scores, I'm sure we all remember last season when Keith "mash up" Stoneleigh Deer Park with a massive 47 points, which still stands as the highest stableford score posted in a CGS event. Keith has got some new clubs and they must be starting to pay dividends and 39 points on this occasion is a solid score to claim third place, a man to watch this season.
Playing in penultimate group along with CGS Chairman Junior Harris was Balbir (Billy) Bangha. Billy pared the first four holes and only just missing a few birdies amongst them; he was to go on and have an even par first nine and ended his round with three birdies. Billy missed out on the prizes by failing to score on the 18th after a drive leaving only a lob wedge for his second shot. Not sure what happened there Bill with lob wedge in hand and to end up not scoring! As a consolation Billy was able to pick up the longest drive prize for his effort on the par 4, 13th with a drive nearing 300 yards. A notable mention with regards to the longest drive, we mustn't forget that Lyne Webb had the longest drive up to that point. The windy conditions played a major part on the day as only two players recorded an effort on the 13th. If I had a pound for the number of times someone shouted four on that hole, I could probably buy a new set of clubs.
For the 3rd time at Wharton Park the nearest the pin was contested on the short downhill par 3, 10th, a hole of 118yards. Again the wind played a major part, was it a Pitching Wedge or a Sand Wedge, many a wedge ended up over the back of the green. It was Winston McLean who first put a marker down, after his effort had clattered into the trees then dropped down to 9 feet from the pin. Unfortunately Winston's effort wasn't enough to beet the mark of 5 feet set with a Lob Wedge by Roan McLeod.
The event produced some excellent scores, it must be said that the standard of golf within the CGS is on the rise. The CGS play its events using the CSS format (Competition Scratch Score) so par is based on the day's standard of play. The number of excellent scores produced set the Par score to 38 points. So any player scoring more than 38 points would have their handicap adjusted. There were several players with scores of 38 points, 39 points and event Steve Mullings with a 40 point score; however none of those scores were even close to the 45 points scored by Nathan Burrows. Nathan as recently joined Gay Hill golf club and this as had a major affect on his game. Before the golf had started Nathan was honest enough to come to the handicap secretary and inform him that his 12 handicap within the society needed to be adjusted because his club handicap was now 11. This change obviously had no affect on Nathans game play. He played the course a par 71, 2 over par, shooting a 73 Gross, that's an excellent standard of play which included 5 birdies on a challenging golf course. The 5 birdies shot Nathan up the ranking in the CGS overall Birdie competition.
Nathan said to Ken Brown in typical Nathan speak, "Ken it's about time you know Ken, I now joined Gay Hill Golf Club and it has really helped my game especially using the Pro V1 balls you know Ken" Nathan also said he enjoyed going around with the guys in his four ball, he said the competition really helped his game today. Well done Nathan.
There were a number of birdies on the day with one noticeable effort from Dr Josh Johnson chipping in from forty-five yards on the 16th hole; Josh said "this was very satisfying after a frustrating day of golf".
Other Notables:
The CGS season opener at Wyre Forest was featured in the free golf publication "English Club Golfer" the article showed Josh Johnson receiving the Fix-Up trophy from Paul Ramsey. You can pick up a copy at your local club or register and read online (Issue 44 – Page 51). Read online
The club captain and chairman also made a special mention to three of their members who have been poorly recently; our thoughts and prayers go out to Rucha Ford, John Kernon and Carl Douglas.
The Club captain thanked Wharton Park golf club for there hospitality and splendid service during the evening meal. He also thanked the group for their etiquette on and off the golf course.
Event Result: