SPOND Usage
SPOND is the app the CGS use to manage event attendance. SPOND is short for RESPOND so its all in the name, respond please and on-time!
CGS rules for using SPOND
SPOND is for Members and also for guests who are in the process of joining the CGS. Any guest who does not join will be removed from SPOND.
Attending Events
Members booking into events will only be accepted into the event via SPOND and not via any of the CGS WhatsApp Groups. Entering events is done via the ATTENDING button under the event. Once an event has been activated by the host you can either Attend or Decline. (Options below appear on the mobile app when you click on the event)

Polls
Where a poll as been created such as to get member feedback on meal choices you will receive notification of the poll and you are required to respond and make your selection. If you are not happy with the options contact the host via SPOND using the "SEND MESSAGE TO HOST" option.
Posting Messages and Comments
If you wish to post a comment which specifically relates to an event so everyone can see it, click on the event write your comment at the bottom and send. If the comment is specifically for the host then use the option "Send Message to Host" in doing so know one else will see that message apart from the host.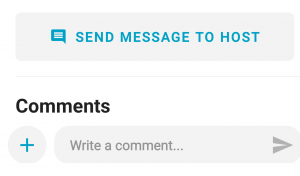 You will get notification from SPOND on any new comments made from members or the host or on new events requiring a response, so its always a good idea to check SPOND regularly for such matters especially if an event requires a response to Accept or Decline attendance or a Poll has been created and requires your response.
Anyone attending an event make sure to check SPOND for any updates that may have been made to that event so you are aware of any event changes prior to attending.
Members should be courteous and respond to events which require attendance by selecting DECLINE or ACCEPT. It is not acceptable to not respond at all. On the day the event is closed for entry there should be no names in the "Unanswered" column within SPOND you either ATTEND or you DECLINE.