Rhucha is Champion!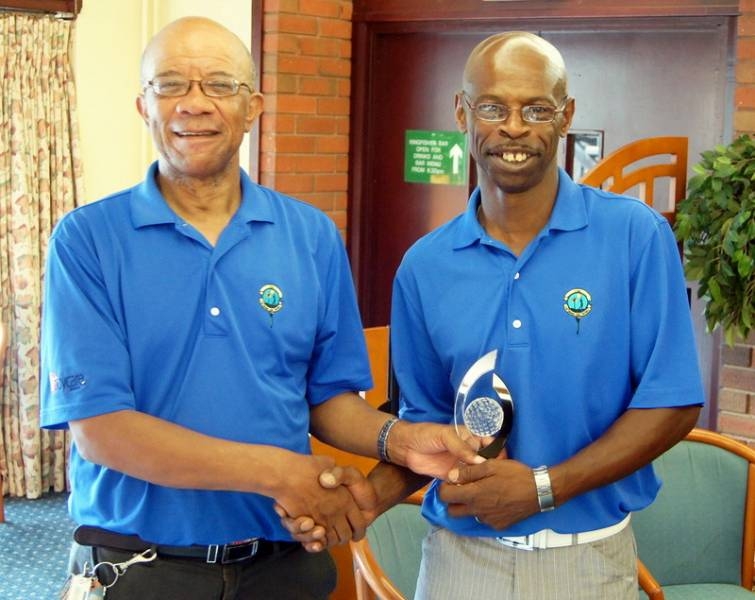 Sunday saw the inaugural Champion of Champions at Patshull Park; we had glorious sunshine for this mid-summer event. Twenty one previous winners, many playing Patshull Park for the first time teed off. 1300 hours saw the first of 7×3 balls on their way around this par 72 Parkland course.
The format was medal although all our Majors are Stable-ford. With medal format pace can from time to time be an issue and on this occasion unfortunately this was the case. My group consisted of Mary Riley and 'Mr Consistent' Dave Brown who plotted his was round what's not an easy golf course with the highest score of any of the six golfers playing off eighteen handicap on the day. Mary and I felt he would be a challenger on the day, we were not wrong as his net score of 72 was good enough to earn him second place.
Two weeks prior I played with Rhucha Ford as part of a four ball, he was far from happy with his game as he was suffering badly with "shanking" and was putting a lot of work in to sorting the problem, this was not in vain as he played marvelous golf on the front nine to make the turn in just +2 over par for 39, and returned a net score of 68 playing off 12. So congratulations to Rhucha Ford on becoming our first Champion of Champions trophy winner.
In third was a man who has made it his duty to collect a prize on match days, Ian Higgins. As we all know we cannot all be successful on these days I had three off the tee on three occasion to finish with a net 85, our Chairman Junior Harris winner last time out at Swindon played himself out of the event by recording two out of bounds on the third hole and another two out of bounds on the 4th.Things did improve on the back and he finished with a net 75.
Captain Lloyd "Bugsy" Thomas had a 12 on the first. Clyde Pile who laughed at my misfortune on the first hole when I disturbed a wedding party, then proceeded to hit two shots towards the hotel kitchen and finally got off the tee on the third time of asking! Mary Riley had a steady opening nine but wilted in the heat on the back, and finished net 85 from what were not very generous ladies tees. The day was finished off with the best meal we've had at an event for some time, thanks to our hosts at Patshull Park.