Charlie finds form at Founders Day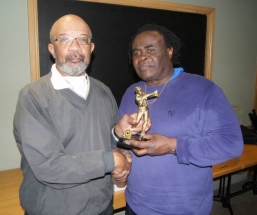 The word for the day was "They are back in business"!
That accolade goes to the boys from Coventry who have bounced back from a poor start to the season to triumph boldly at Stonebridge Golf Club.
The banter amongst the members was how the Coventry boys who have dominated the last few seasons of CGS majors won't be winning anything this year, their time is up! Well the prizes on offer at our annual founders day event only consists of 1st, 2nd and 3rd place prizes and all three went to the Coventry boys, Charlie McCook, Frank McCook and Bob Dhammi.
With Stonebridge being a regular haunt for the Coventry boys and home clubs to Frank and Bob it proved pivotal in the overall result. The course was in pretty boggy conditions after rain the previous days and continuous rain on the day with some tee boxes being replaced by the dreaded winter mats.
The course was pretty much water logged in places with standing water the order of the day. This did not affect the winning trio as they posted NET scores of 68, 72 and 72. It was Charlie McCook who came to the fore and the only one of the trio who is yet to win a CGS Order of Merit title, unfortunately for Charlie founders doesn't go towards the Order of Merit title. This however does not lessen the effort in shooting a 68 on what wasn't enjoyable playing conditions, as some said "they were playing a different course" – so it's a well done to all the Coventry boys especially Charlie McCook for a well-deserved win.