Martin takes his first win at the 5th Founders Day Event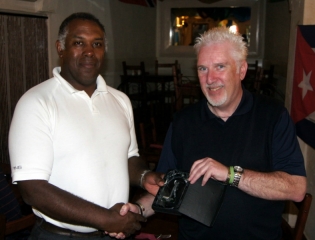 The 5th CGS annual Founders day event was held at the Lickey Hills Golf Course, Rose Hill, Rednal in Birmingham.
Once again we were greeted with a blue sky, and once the initial early morning mist had lifted over the hills the warm sunshine grew in intensity, several players had to take several intakes of liquid refreshments after ascending some of the challenging fairways as the ambient temperature continue to rise into the mid twenties.
The Golf Club is situated in the Lickey Hill Country Park, which is renowned for its magnificent views and varied terrain. There are some very challenging holes that need to be respected in order to maintain a clean and tidy card.
The park is also open to the public for general use, several golfers were interrupted on numerous occasions to allow Jay walkers to cross the fairways, we also had several incidents of "Bank Holiday Golfers" who literally decided to occupy any tee which was vacant for more than 5 minutes. This is a learning curve for the society and you can rest assured all these issues will be looked into for future bank holiday events. I guess this was a result of playing golf in a municipal park on a bank holiday with good weather.
There were some notable golfing shots played and some huge drives were noticed on several holes, but I can remember walking up the 7th fairway and spotted a huge drive sitting in the middle of the fairway on the 6th, seeing Roan McLeod walking up to the ball with 100 yards to go was no surprise!
Congratulations to Martin Chidgey who played in the 4th group off a handicap of 28, he came out on top in 1st place with a net score of 68. He played some very steady golf with a gross score of 48 out and 48 coming in on the back 9. With all the long hitters and great wedge players and putters, its all about putting it together on the day and Martin was able to do this.
In 2nd place with a net 69 playing in the same group was Junior Harris playing off a handicap of 12, he had a mediocre front 9 with 45 points, but got his act together and came home with 36 on the back 9, this included 3 putting on 3 of the last 4 holes.
In 3rd place also with a net 69 was Linton Bell playing off a handicap of 18. He had a steady start on the front with a gross score of 47, but returned 40 strokes on the back 9, to take the 3rd place prize from Paul Ramsey on countback, Paul coming in with 39 stokes on the back but loosing out on the net score.
The Longest drive was won by Linton Bell; on the 17th it's amazing that someone of his size can hit such a big ball, but as we all know size is not everything.
Nearest the pin was taken by Dave Brown, it has not gone without notice that since the start of the 2011 he seems to be always amongst the prizes, he's developing a steady game.
Event Result: