2016 – A Season to Remember for Dave Brown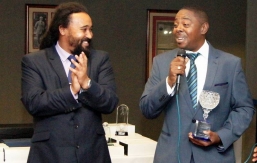 Ten years ago the CGS was formed and since that time we have travelled far and wide to play this great game. We have competed against each other in some very difficult conditions from snow at Hatchford Brook to heavy rain at Swindon, we all remember Swindon, and there are pictures on our website to remind us of that day. I don't mind saying that we are a well organised society; we've got some good people involved in putting our events together. There is no doubt it can be difficult at times but I'm sure we get some satisfaction when things come together, however there is always room for improvement.
The CGS was started to bring together golfers of African descent who may not have found the opportunity to play some of the great courses in the area and since its inception we've seen many people join as members or otherwise play as a guest but no matter whom they were they were exposed to some serious golfers. We really do have some serious competitors in this society and with the number of events we host throughout the season the level of competition just increases.
The challenge for all the members is to win the CGS Order of Merit and this title keeps getting harder and harder to attain as the seasons go by, so when someone achieves this mantel they really standout as the most consistent player of the season.
It was a long 2016 with events taking place all over the Midlands and beyond including a trip to Whittlebury Park for the newly named Charlie Sifford Memorial Trophy a two day major down in Northamptonshire.
The season started as it always does since former member Neville Rhoden bought the CGS its first trophy which was called the Fix-UP Cup named after his handy-man business Fix-Up. This year the event took place at Cold Ashby Golf Club and was won by Frank McCook. The venue wasn't the best and one we won't be going back to anytime soon, but it was a good win for Frank.
The second event was our annual Founders Day event and this took place at Aston Wood, a venue well received from those in attendance. The venue was even more received by the event winner and member of the same club Keith Riley; Keith certainly knows how to make home advantage work for him. The last time the CGS held an event at a course where Keith was a member was at the West Midland Golf Club and on that day Keith won the event.
The 2016 season has been the first year in which we have decided to give each event a proper title and also an event trophy, so along with the Fix-Up Cup the second major with its own official trophy was the Captains Trophy. This event took place at a CGS regular, Cleobury Mortimer. On the day Micky Taylor proved to be too good for the rest of the field and romped away with the new Captains Trophy.
Yet another CGS regularly visited venue was Sapey Golf Club and in May we attended this venue for the new Chairman's Trophy which was won by new CGS member Rob Anglin.
It's already June and the venue is The Shropshire for the Champions of Champions trophy and on the day Ian Higgins clinched the first of his two victories in 2016.
The Vale of Evesham was so good we played it twice, the event for the Caricom Cup was called off the first time we attended so it had to be rescheduled. It looks like this venue seems to attract rain; in 2015 the start of the event was delayed due to rain – sorry Evesham we'll have to give you a miss for the coming season. Anyway the 2016 event did take place and the winner was a CGS first for long time member Tony Sealey.
The CGS train now in full flow stopped next at Telford Golf Club with members competing for the Secretary's Shield and on form that day was Rhucha Ford who played some solid golf to take the trophy.
Another venue which has been so well received since its first introduction in 2015 was the Menzies Welcome. This venue would play host to the Players Trophy and for the third time in 2016 another first time winner would lift the trophy. On this occasion the winner was Dale Bromfield, Dale's excitement in winning the trophy is what this society is all about and makes it so worthwhile the time and effort that goes into putting on these events. Well done Dale.
Our event in September was for the new TNCM Trophy, the TNCM stands for The National Caribbean Memorial, an organisation linked with our long standing member Don Campbell. The organisation was established to remember those from the Caribbean Islands who have severed, serve today and will serve tomorrow for the United Kingdom in conflicts around the world. This new Trophy was won by another first time winner and long standing member of the CGS Ken Brown, who was a well-received winner by those in attendants, it's been a long time coming but well deserved.
The season was almost at an end, it was only the two day event at Whittlebury Park yet to be decided. There were only two members in the running for the Order of Merit title, there was Trevor Lammy , a past winner hoping to be the first CGS member to win the title twice and there was Dave Brown, who as no doubt been the most consistent golfer throughout the season. It was a difficult weekend but going into the event Dave had a pretty substantial points advantage but it wasn't completely sown up, a performance was still required by Trevor in order to prise the trophy from Dave, but unfortunately it wasn't Trevor's best weekend and Dave yet again was consistent as he has been all season, he would eventually finish second in the event to Ian Higgins who walked away with his second win taking home the Charlie Sifford Memorial Trophy. It was a sweet second for Dave because he now knew that the Order of Merit was his. Dave Brown, one of the most consistent members over the last couple of years finally won his first Order of Merit title. Dave always attends CGS events, and continues to learn the game and always learns from any mistakes he makes and very seldom makes them again, he will be one to watch again in 2017. Well done to Dave Brown who is the CGS champion golfer for 2016.
The standard of golf within the CGS is very high; you have to be on form to win. However over the years the CGS hasn't just been about golf, we have contributed hundreds of pounds to various charities to which some of our members have been a part of and it's something we should be proud. When I look back at what we started ten years ago to where we are now and what we've achieved it makes me feel a big sense of achievement. There are many other societies out there who've been around longer but haven't achieved to the level of the CGS. We are a popular and well known society not only in the Midlands. We are so well known every year we get requests from people wanting to join and so far in 2017 we have two new attendees at our first event. This year will no doubt be another memorable year for the CGS as we continue to grow and develop.