First Major Win for Tony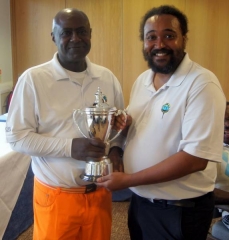 As a society we have always been very lucky with the weather however when it has comes to the Vale the luck seemed to have dried up!
The first time we visited the vale was the summer of 2015, we arrived to find the course was water logged. Due to the great drainage we were able to play even though we had to wait a while.
After the golf we all agreed that we would have to return the following year due to the high quality golf and facilities.
This time we managed to tee off on time only to be stopped by the sound of the klaxon due to lightning and thunder before all were able to complete the day's golf!
So we had to reschedule for a later date. On our return we had almost perfect conditions and all were able to enjoy and complete the golf this time.
A big congratulation to the eventual winner on the rescheduled day Tony Sealey in what was his first major victory and winner of the inaugural Caricom Cup!
The runner up on the day was Charlie McCook and following in third place Dave "Mr Consistent" Brown.
A big shout out to the top three on the day well done guys!
Clyde Pile snagged the NP with Ludlow Stewart claiming the nearest the pin in two and the omnipresent Ian Higgins claiming yet another longest drive, congratulations to you all.