Martin's Chidg Day at Pype Hayes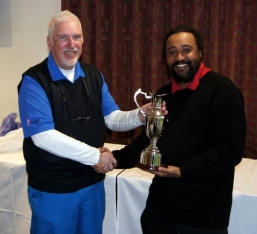 The first Good Friday Founders Day event was played at the Lickey Hills Municipal Golf Course 11 years ago – where have all the years gone?
Initially, this annual event was held at a local Municipal course, the profile of the event was then raised and subsequent events were played on private courses around Birmingham.
It was decided that year's event would return to our roots, with Pype Hayes being the venue to host our 11th Founders Day.
The course is regarded as one of the best Municipal courses in Birmingham and with a long history it hasn't changed a great deal over the years but the facilities have improved loads with the introduction of a new club house to rival any private course.
With the course in good condition for the time year and the sun shining, although the rain came towards the end of the round, 18 members teed off to contest this event, which was down on attendance compared to last year, nevertheless it turned out to be an eventful day. The event is played as a medal or stroke play, where every shot counts, so you can't afford too many high scoring holes.
As the first group of players came in, they proceeded to tuck into their Fish & Chips, whilst the scores were inputted; the final result was too close to call with many nett scores hovering around the 70 mark until a certain Martin Chidgey's card was processed. The card submitted by Martin blew away all the previous contenders for the trophy, with a gross score of 87 playing off a 28 handicap meant a nett 59, winning by 9 shots from Elford Douglas, who returned a respectable gross of 83 and a nett of 68. In third place was Chairman Junior Harris who recorded the best gross score of the day with 79 shots but playing off 10 this gave him a nett 69.
With the winning margin being so great there is a down side and with the Competition Scratch Score being 68 and Martin beating this by 9 shots he received a severe handicap cut of 6.3 shots, giving him a revised handicap of 21.2.
Upon presenting the trophy, Captain Frank McCook had to kneel down to the man, who had made CGS history by being the first member to break a 60 nett score, a score never seen before, which will be tough to beat in the future.
Congratulations Martin for flying the flag for the over 60's by playing a magnificent round of golf, it was definitely your day at Pype Hayes.
The CGS would like to thank the staff at Pype Hayes for making the day a success.