CGS Charitable Donation Helps FOB!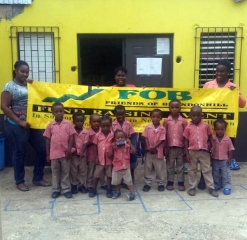 In 2017 the CGS supported FOB as one of its charitable causes; this is a little background and report on this very special charity.
"I shall pass through this world but once. Any good therefore that I can do, or any kindness that I can show to any human being, let me do it now. Let me not defer or neglect it, for I shall not pass this way again."

FOB Motto
Friends of Brandonhill (FOB) are an organisation which, amongst other things, aims to help support children in need in the Caribbean. The organisation also seeks to promote links between schools in the UK and the Caribbean.
FOB was founded on 10th May 1998 and is a society whose only form of income is donation based.
FOB's aims are to:
Address poverty amongst children in the Caribbean countries where possible.
Promote and support health awareness for children in need.
Help young people achieve independence through the power of education.
Promote links between Caribbean and UK schools
Support multi-cultural education in UK throughout the West Midlands
FOB business in the Caribbean in 2017.
Money donated at the CGS presentation night was well received by FOB. The funds have contributed in the support of food and hygiene at the Alexander Basic School in St Toolis, Manchester, Jamaica in order to meet health and hygiene standards. The school and teachers were over the moon with the donations. FOB involvement with the school goes back some 15 plus years.
The school was then a shed, much of the teaching was done under a mango tree and the toilet facility was just a hole in the ground. With FOB intervention, the development of the school became a reality for all concerned and at an important time. With children having to walk 5 miles to school in porous conditions on occasion, for those who could not afford the taxi fee, others like Rantis James and siblings, living in absolute poverty, they just stayed at home without an education. Rantis was unable to walk at the time but with the development of the school thanks to FOB and government support, the school became an institution of hope for the whole community of St Toolis. Volunteers are now qualified teachers and access to education now free for all and in walking distance.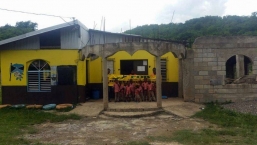 Alexander Basic School today is a beacon of hope for the whole community. Adult education is also provided in the evenings. Above picture of the younger ones waiting on parents
]Evidence of further development is taking place at the school, progress is slow due to lack of funds, and FOB is their only hope at the moment, the 2018 programme for FOB will include a fun day in support of the schools expansion plans.
In 2017 the Caribbean Golfing Society (CGS) made a significant donation to FOB. The money was ring fenced and put towards much needed kitchen utensils at the school in support of its ongoing developmental needs.
A new fridge freezer was most welcoming site along with other items such as a Gas cooker.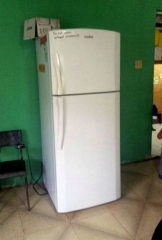 Planning for the next year is often informed by the activities of the current, which is now in progress and all are welcome to join FOB in Easter 2018 in the Caribbean.
Success always comes from having an informed plan one year in advance. It is clear to see that St Toolis school will be a high priority for 2018 because of the current impact it is having on the whole community
Thanks to all CGS members and their families and friends for their support of this very worthy cause.