Another Successful FOB Charity Golf Day!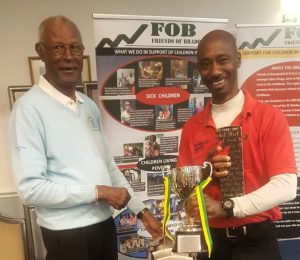 Friends of BrandonHill (FOB) are an organisation which, amongst other things, aims to help support children in need in the Caribbean. The organisation also seeks to promote links between schools in the UK and the Caribbean.
FOB was founded on 10th May 1998 and is a society whose only form of income is donation based
The FOB Charity Golf Day the brain child of organiser Ronald Ross, an event which was inspired by his involvement with Caribbean Golf Society which he has been involved from its inception back in 2007. The inspiration for the golf day centred on using golf for a good cause.
The sole purpose of the the Golf Day is to support a young boy living in Jamaica called Jadon Dixon who's been fighting to stay alive after years of failed surgery and clinical interventions.
FOB responding to an article in the Jamaican Observer a mothers plea for help with her terminally ill child who was only 5 years old at the time.
Following intervention from FOB Jadon was accepted by John Hopkins Hospital in the USA on a pioneering clinical trial for children with Neurofibromatosis a cancer of the head, which causes strangulation of the airways leading to permanent trachea to support of his breathing.
To keep Jadon alive and in treatment, FOB support includes:
Health insurance annually £2000.

Flights to and from the USA 4 times yearly

Accommodation and food for Jadon and his mum while receiving treatment.

CPAP and a suction machine to keep his Airways clean and free from infection.
Jadon is also high risk to COV19, because of his weakened immunity due to the clinical trials and medication given.
If the treatment is successful, millions of children around the world will benefit from his suffering.
To date, we are half way into the trials and things are working well, Jadons skin is shrinking, he has returned to school and is making good progress catching up with his peers.
Jadon is now 10yrs old and is currently in counselling. He is not happy with the disfigurement caused by the shrinking of the cancer, "children at school can be unkind at times".
With the current pandemic,
FOB fundraising activities are undermined, thus putting Jadons situation at risk.
The charity golf day was a blessing in disguise.
The day before the event it rained all day and on Saturday of the event the sun came out, it was truly a blessing in disguise.
Sandwell Park Golf Club, embraced the concept and the whole committee not only gave up their time to support, they also gave FOB a Saturday which was unthinkable. Members did not mind one bit.
Those who could not take part made a contribution, including the ex chairman of Sandwell who made a significant contribution despite his absence.
Organiser Ron Ross said his agenda for the day was simply this… "We need the support of everyone, be they Rich or Poor, Male or Female, Black, White or Asian" so the word went out and the support came from all areas of the country.
On the day the kitchen staff made extra effort to please all those in attendance and it was well appreciated with the customary collection for the catering staff which reached £50.
It was also a unique occasion for Sandwell's first black captain Hughie to shine with the presentation. Also for the first time, white rum was served at the half way house and the boys from Handsworth Golf Club along with several members of the ACGA (African Caribbean Golf Association) who made the journey down from London took advantage of what was on offer, clearly golfing wasn't on their agenda for the day.
Ron's only disappointment on the day, was he was unable to play any Golf due to being so overwhelmed by the occasion.
In 2020 which was the first year of what is now an annual event, long time supporter of FOB events and a man who lost his life earlier in the year was Ken Brown. Ken was a big part of FOB golf day along with other non attendees Eric Queely and Denny Senior and many others who were also unable to attend, they were all clearly missed.
Ron was very happy to see his fellow CGS (Caribbean Golf Society) members take most of the honours on the day they did him proud.
A special moment on the day was attributed to the remembrance of brother Ken, for his 18 years of support to FOB and to the cause. A man who would easily sell £150 in raffle tickets annually, he never missed an occasion with 18 years of service to the cause.
Angela Brown and her eldest son were both involved on the day and received an award on behalf of Ken, for his long standing service to FOB and to the cause. Ken is gone but not forgotten.
FOB will miss his generosity.
For those who paid their fees but at the last minute were unable to attend, a special thanks has they were still able to donate their fee paid to the cause.
Also in attendance were a contingent from Bristol, whom were planning to exit after their round but were persuaded to stay and take advantage of all that was on offer after their round. They also appreciated the condition of the Sandwell Golf Course which was in top condition, the green staff having prepared it for a professional competition which was due to be played on the following Monday.
The event will hopefully now grow from strength to strength, this years attendance having already broken that of 2019 so it will only get bigger and better. The guys from the ACGA have already said they plan to bring more members down for 2021 and the guys from Bristol have already said they will be back next year. The planning process is already up and running, sponsors are desperately needed if we are to advance the richness of prizes awarded on the day and to raise valuable funds for Jadens ongoing treatment and care.
The date for 2021 is already set for Saturday 28 Aug 2021 and 20 tee times have been allocated to the event, so with limited tee times attendance will be on a first come first serve basis.
One last message – if your reading this report and would like to support the event by sponsoring a prize or better still contributing to FOB for the care of Jaden and any other FOB charitable causes please use this websites contact page to reach Ronald Ross who is also currently the CGS vice chairman.