Home is advantageous yet again for Keith Riley!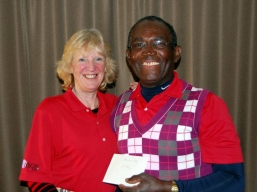 The 10
th
anniversary of our Founders Day was held at Aston Wood Golf Club and it was complete transition to the debacle of Cold Ashby. The weather was good and the course was in great shape and above all it was a golf course rather that the opposite we experienced at a few weeks prior.
The annual Good Friday event which commemorates the start of the CGS was well attended by 24 members all hitching to play a proper golf course; the event was almost seen as the real start to the CGS season. Everyone was in good spirits and ready to show skills as well as apparel. It was Keith Riley who shone through with is red check trousers and red toned brogue golf shoes, he was a picture, the only hope was his golf would live up to his apparel – woe betide he who dresses well and plays poorly!
The Aston Wood course is the home course of two CGS members, Keith and Mary Riley; it was recommended by both and was a very good choice. All the CGS members enjoyed the course and would love to play it again as one of our major events.
The last time we played a CGS members course on Founders Day was a few years ago and the venue was West Midlands Golf Club. It was at the time the home course for yet again Keith and Mary Riley and on that day the event was won by Keith Riley who shot an 84 playing off a 12 handicap, his net score of 72 was good enough to win by a shot.
The question on this occasion was would home advantage be key again and the answer to that was yes but would it be Mary or Keith. Being the oldest person in the CGS it was yet again Keith Riley who could take the Founders Day honours.
It was a very impressive round from Keith shooting a gross 79 a Net score of 65 which was almost 10 shots better than the second place Net score of George Oliver and Frank McCook who both scored 73 Net.
Congratulations again to Keith Riley who played a very steady round and deserved the victory backing up his dress sense with a game to match.