Carlton grows from strength to strength!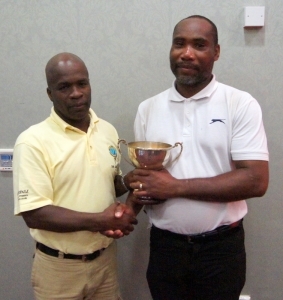 The Champion of Champions is played every two years with entry open to any current CGS member who has won an event since the society was founded. This year saw seventeen former winners battle it out at the Telford Hotel and Golf Resort. This competition has no minor prizes with straight medal play to determine which champion is the champion!!!
The weather was set fair with hot and dry conditions and there was plenty of bounce and run on the hard, dry fairways and greens. Whoever could control and make best use of the conditions would be in with a chance.
Without the distractions of nearest the pin and longest drive it was heads down for some serious golf and the early scores reflected this. It was going to be a tight call to see who ran out the winner. Six players carded gross scores in the 80's and all six featured in the day's top ten. Vassel Brown played some superb golf to card the lowest gross score of the day – an 85; But playing off a handicap of 6 his nett 79 could only place him 9th. Unlucky Vassel, it was a pleasure to watch such excellent hitting. Four shots covering the top ten places is a really tight finish.
Four players carded nett 77's, well played Dave Brown, Chris Powell, Rob Anglin and Junior Harris but not even these scores weren't enough to reach the first three places. A thought too for Emrys Karemo who for a long time thought he was sitting on a great score… He'd signed for the correct score on each hole, but his marker's maths left a bit to be desired and he thought he had 74 when it was actually 84. Thank goodness the computer can count!
The top three players all recorded nett 76's so countback was needed to determine the result. Ian Higgins and Rucha Ford must surely be thinking of some missed opportunities that would have tipped the result in their favour. However, at the end of the day standing tall and proud it was Mr Carlton Donald who took the title with a gross 96 off a handicap of 20. Well played Carlton, that handicap will have to come down soon!
Finally, thanks to the Telford Hotel and Golf Resort for producing a worthy course and for looking after us well.