1st Major win for Errol at Lingdale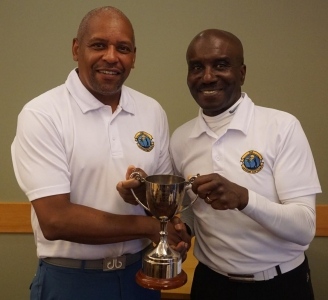 CGS Caricom Cup was held at Lingdale Golf Club in Leicestershire. CGS 2
nd
visit to Lingdale with the first visit being in 2017 where 33 CGS members and guests attended with Chris Powell taking the honours.
The course was well-received by CGS members although some did think the greens were a little on the slow side in comparison to some members home courses, that may have been the case but this did not mean that the Lingdale greens were bad in fact they were very good.
This is one of the most challenging courses we play throughout the season, it's a course with many long par fours and also challenging par 3's. The winning score back in 2017 by Chris Powell was 37 points and again on this occasion 37 was the winning number.
As with all our events so far this year attendance was over 30 yet again. And another good thing was the issue of slow play encountered the last time we played Lingdale was missing on this occasion the speed of play was much improved.
The committee provided those in attendance the usual prize offerings such as 1st, 2nd and 3rd overall prizes along with Longest drive and nearest the pin prizes but also one added prize of a voucher for a 4 ball to Lingdale with an additional nearest the pin prize.
With our growing membership it was down to one of our new 2019 members to take the honours. With 37 points Errol Murray playing off a 19 handicap revised to 17 was the winner on the day.
In 2nd place and storming to the top in the order of merit standings was Eddie Wedderburn with 34 points pipping Ian Higgins on count-back who finished 3rd.
Longest drive went to Mr Higgins once again, I think we need to make him hit a wiffle ball instead – hmm, something to think about!
Nearest the pin in 3 was won by Errol Murray who had a very good day in picking up two prizes.
The 4 ball voucher winner with nearest the pin in 1 was won by Chris Powell.
The only guest in attendance was Simon Watson who scored 33 points.
Next event will be held at The Staffordshire Golf Club, previously known as Swindon Golf Club in Shropshire, the location for the only CGS hole in one by Ronald Ross on the par 3 17th back in 2011.