Good Weather for Wedderburn!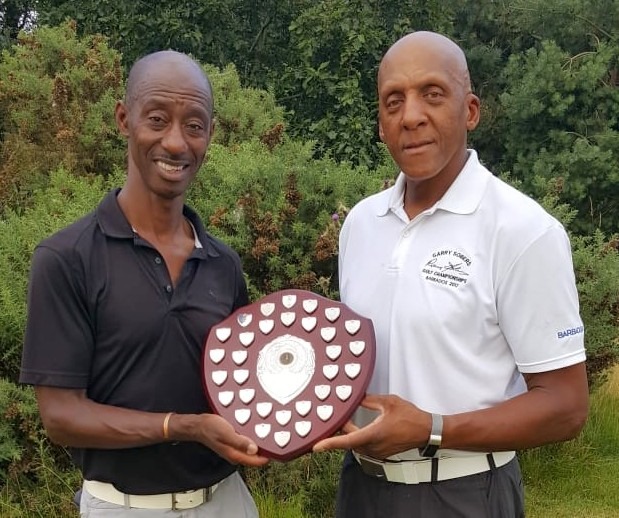 CGS moved to an old favourite for the Secretary's Shield, what was previously known as Swindon Golf Club in Staffordshire is now known as "The Staffordshire".
The Club has been off the CGS radar due to ownership and membership issues which have now been resolved, well the ownership issues have hence the new name.
Anyway we last travelled to the venue in 2015 where Howard Browne won with 42 points. The course is tree lined and doesn't reward the offline tee shot with any favours, you need to be accurate and consistent with it.
The sun was out for the 35 members and guests in attendance, we are now in our 5th event of the season and once again as with the previous events it was sold out.
Once again as in the last event the committee surpassed themselves again by providing not just the usual prizes but an additional 4 ball voucher for The Staffordshire with nearest the pin in two on the 18th. You guys are starting to set a trend here and members may start to get use to this but good job again in organising yet another well attended event.
This year the CGS have seen a noticeable increase in guests attending who've then gone on to become members and long may that continue. Guests in attendance on this occasion was former member and now resident in Jamaica was Tennis Russell. With limited golfing in JA Tennis struggled on this narrow track, it's a shame for him that he'd picked this course, he could have done with a more open course, anyway it was good to see him.
Attending in his second CGS event was Chris Duckett who'd first played with the CGS at The Worcestershire Golf Club back in May where he scored 35 points and also picked up the longest drive. On this occasion with less room for error Chris could only muster 22 points. The final guest in attendance was first time attendee Harvey Lawrence who scored a credible 32 points and also picked up the longest drive for being on the fairway of the 12th. It's always good to see guests pick up one of the ancillary prizes since a society rule prevents guests from winning one of the top three positional prizes.
On what is a difficult course it was good to see that so many playing made birdies! There were 5 two's made two on the 4th one by Paul Ramsey and the other by Ronald Ross. Also on the 17th was Ronald Ross again and Mickey Taylor. The 17th was the location for the CGS only ever hole in one and that was by Ronald Ross, he obviously likes that one! I think he loves the venue scoring 35 points for a 6th place finish. Anyway back to the two's, I said there were 5 two's and the missing one was scored on the most difficult of the par 3's it was the 11th. It's a hole that can be played with anything from 5 iron to 3 iron, a rescue, a 5 or 3 wood. I'm not so sure what he hit but playing off a 28 handicap and scoring the only birdie on the 11th was Carl Cunningham.
The last CGS visit to what was Swindon Golf Club was back in 2015 where Howard Browne scored 42 points which must be said wasn't an accurate score since his handicap wasn't accurate but that's in the past, the 2nd place player at that time showed a more accurate score for the venue playing from a more accurate handicap and that was Junior Harris with 33 points. On this occasion the scores reflected Juniors effort back then with scores in the 30's and with 38 being the winning score and standard scratch being 35 points, it was a good scoring day with 15 players including guest Harvey Lawrence scoring 30 or more points.
It was a very close result, the top four were separated by a single point with 2nd, 3rd and 4th place positions being decided on count-back. The unlucky 4th place player was Linton Bell with one of three on 37 points. In 3rd place with 37 points playing off 6 was Roan McLeod. In 2nd and close friend to the eventual winner was Mickey Taylor also on 37 points playing off 11 handicap. In 1st place and also getting the bragging rights with friend Mickey was Eddie Wedderburn, with 38 points and his 2nd win of the season. It must be said that all the top three winners had a no score on one hole. Congratulations to Mr Wedderburn who's now shot to the overall lead of the 2019 CGS order of Merit.
For those who found it a struggle the consolation of the other four prize options were still up for grabs. The nearest the pin, nearest the pin in two, nearest the pin in three and longest drive. As mentioned before longest drive was won by guest Harvey Lawrence, nearest the pin in three was won by Elford Douglas, nearest in two on the 18th for a 4 ball voucher at the Staffordshire was won by Neville Fennell and nearest the pin was won by Errol Murray.
That wraps up another successful CGS event.
One thing that must be mentioned, with so many in attendance and the groupings being decided prior to the event the committees new format for group order, which is bases on a first come first served basis which basically means if all your group have signed in on the day then your next in the order of play. So any groups with members who fail to sign in or are late then there is a good chance you'll be at the back of the field. This was the case for this writers group, as we ended up in the final group but the worse thing was to have a one ball, a member of the club constantly behind us on every hole and waiting on the tee with us. It's something myself and others in the group have never had to experience before. It wasn't the point that this one chap was playing on his own but it was for him to decide to play behind two societies which amounted to over 50 golfers who were out in front of him so it would be better if he'd gone off the 10th tee, which was put to him, anyway no was his answer he wasn't prepared to do that and continued to play behind us. The worse part of it was that any one ball would play several balls knowing there is nowhere for them to go, but not this chap, he was going to play a single ball and wait on the tee with us on almost every hole. Well we left him to it and tried to keep our focus and just play, until on one blind hole where we'd waited for the bell then tee' d off. It was at this point that we ended up having to look for a couple tee shots when a ball came bounding down the middle of the fairway, it was just luck it didn't hit one of us. This was the last straw and something needed to be said. His argument was that we should have allowed him through but as the rules of the game state a one ball as no standing on the course and does not get priority over any other group just because they are on their own. We were not playing slow and were waiting on the tee for the group in front to finish, so we were keeping up with play. "Why allow a one ball out behind a society let alone two societies, I will never understand – better still why would anyone want to play as a single behind two societies!"
Well done to all the winners on the day especially Eddie Wedderburn.
Next event will be held at what's becoming another CGS favourite: Olton Golf Club in Solihull promises to be yet another sell out so be on time and signed in and avoid being in the last group.