It's Players for Chris at Olton!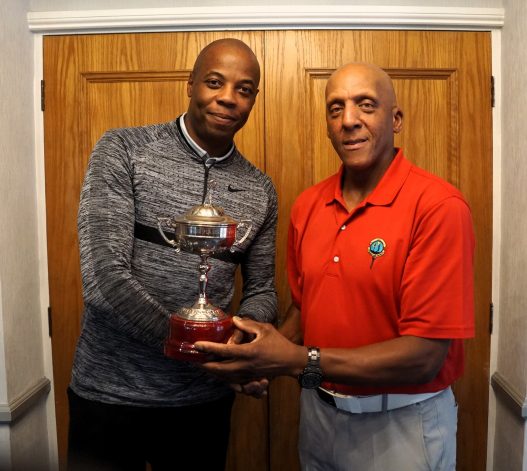 Six down and two to go! – That's the current status of the CGS season. The sixth CGS major event for the CGS Players Trophy was held at Olton Golf Club in Solihull, a strong test and a favourite amongst the CGS members. For the last two outings at this venue attendance has been high and this occasion the trend continued. With some 38 CGS members and guests the competition was as warm as the weather on the day.
Winning a CGS major is becoming a very illusive prize, with so many good golfers in the society you need to be on your game to be in with a chance of winning and with new members constantly joining that task will no doubt become even harder.
In attendance were four guests, some familiar faces and some new. Returning once again was Simon Watson and Dave Ward and Harvey Lawrence and with a first time appearance and most definitely not his last was Paul Foster
Olton is no push over and you need to be on your game to score well. The scores varied on the day ranging from the high thirties to some really low scores, which I won't mention but can be viewed under the competition results.
The course was in reasonable condition with the greens being on the slow side having been hollow tined, but this didn't put off some who were still able to produce credible scores.
It was tight at the top Eric Queely scoring 36 points to place in 3rd and but for bogeying the last five holes and posting 38 points to finish runner up Chairman Junior Harris could have taken home the Players Trophy but for the poor scoring on the last five holes which included hitting a second shot further away from the fairway than his tee shot, "I'll leave you to work that one out", things could have been different. Posting 39 points which could have been much better was Chris Powell who walked off the par 5 eleventh with only par having reached the green in two. A round which started bogey, bogey but then settled with only one more bogey for the rest of the front 9, also not a single birdie on the card but playing 3 strokes better than his handicap showed there were more missed opportunities to have bettered his score.
A CGS society day wouldn't be the same without the usual ancillary prizes on offer: Longest drive was won by Linton Bell on the 10th hole, Nearest the pin was won by Keith Salmon on the 13th hole, Nearest in three on the 18th was won by Trevor Lammy and Nearest in two on the par 4 9th was won by Ansel Pottinger.
It's downhill now, all the way towards the CGS champion golfer otherwise known as the Order of Merit title. Way out in front and almost out of reach is Eddie Wedderburn who placed 7th at Olton with 33 points. Eddie has had a very consistent season with two wins under his belt which has no doubt catapulted him towards that first Order of Merit, he's more than two hundred points ahead of second place man Ludlow Stuart, so nothing short of Eddie having a nightmare for the rest of the season and those close behind winning the next two events its seems to be the only way for Eddie to be caught.
Thanks to Olton once again for their hospitality, the staff worked very hard to accommodate us especially when serving incoming players by groupings at times it looked very challenging but they got through it.
Next event will be held at Walsall Golf Club for the TNCM Trophy.