Ron reigns supreme at his favourite course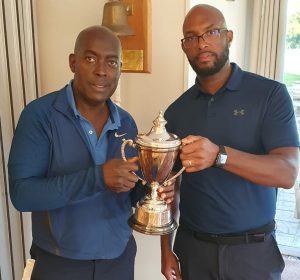 The CGS returned to the Staffordshire golf club formerly known as Swindon golf club to play for the Fix up Cup.
Normally this would have been the first major of the season but due to the Covid -19 pandemic this was now our 5th
It was a lovely start to the day with the sun baring down accompanied by a stiff breeze. No rain today or so we thought!
Now this is not a course where the driver is used with reckless abandonment, it takes good course management to tackle this course.
This was evident by the fairly low scores that came in on the day. Maybe another reason for the low scores was the lengthy downpour that arrived half way through the round which had many quickly jumping into their waterproofs. However some hapless guys having been fooled by the lovely sunshine early on had not bothered to bring theirs and needless to say got soaked.
The winning score was 34 points by vice chairman Ron Ross who was a previous winner here wining on count back from Chairman Junior Harris also scoring 34 points. In third place just a point behind was 2020 captain Mick Taylor.
As mentioned previously this not the place for the big stick but obviously it always comes out for the longest drive hole, this was won by Trevor Lammy with an exceptionally long drive.
Nearest the pin was won by Chris Powell unfortunately he missed the birdie.
Nearest the pin in two was Elford Douglas who we have not seen at many events this year.
Finally nearest the pin in three was won by Trevor Lammy who was on the green in two and came off with a birdie.
Overall it was another good day at The Staffordshire where we were warmly received by the pro, bar staff and in particular the chairman who presented us with a bottle of whiskey.
With two events left the order of merit is hotting up with early leader Dale Bromfield's lead being cut from of over 100 points to just 22-points(516) with Junior Harris in 2nd place on 494 and Chris Powell a further 6-points behind in 3rd on 488. However it is really close this year with anybody down to sixth place having a chance of winning.
Next event The National Caribbean Memorial trophy(TNCM) at Lingdale G.C.