Ludlow Finally Breaks His Duck at Cleobury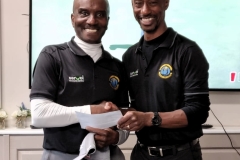 This year's annual Founders Day event was held at Cleobury Mortimer Golf Club in Kidderminster.
It was a small field of 28 players that turned up for the challenge. This event is not one of the majors and the smaller than usual field may be the reason for this. Also, the format for this event is medal rather than the normal Stableford format.
With that in mind we all knew every stroke counted.
Cleobury Mortimer is a course that consists of three loops of nine which are the Badgers Sett, Deer Park & Foxes Run. On the day we played the Deer Park & Badgers Sett
As with the previous event at the Welcombe the course had suffered from a lot of rain over the preceding week and the course was not at its best with the Deer Park being quite muddy under foot. The Badgers Sett was slightly better but the greens throughout having previously being hollow tined were very poor.
Despite the conditions though there were some good scores that came in.
The results were as follows
1st place and winning his first CGS event went to Ludlow Stewart with an excellent nett 69.
2nd place Captain Eddie Wedderburn with a nett 71
3rd place Mick Taylor with a nett 72
Longest Drive was won by one of our guests Emerys Karemo
Nearest the pin also won by our other guest Howard Browne
Nearest the pin in 2 – Emerys Karemo
Nearest the pin in 3 – Errol Murray
Birdie Hole which was hole 17 and was won by Ludlow Stewart
The CGS tour now moves on to Bewdley Pines Golf club to play for the 2nd major of the season the Caricom Trophy