Noel Comes Wright Back With A Bang!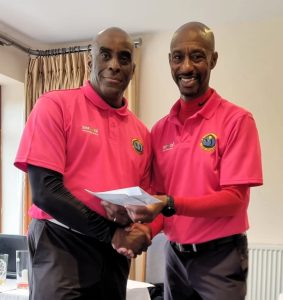 With the season now underway the CGS turned up at Bewdley Pines Golf club to contest the 2nd, Major.
With members and guests turning out once again in good numbers, a total of 41 golfers were hoping to put in a good performance that would lead to them to taking the winners spot for the Caricom Cup.
Bewdley Pines is a course that despite all the recent bad weather remains dry throughout due to its sandy soil. However once again this season the greens were not the best and were found to be quite woolly & in need of a cut.
The start to this course is very tricky with the first four holes being the key to a good score and bad one, especially hole four, known as "Snake Alley"!
In spite of the greens and the tricky holes ahead there were quite a few good scores that came in.
With scores from the early finishers ranging from 37 points, steadily rising to 38 points, looking around the clubhouse you could see those on that score thinking & hoping they'd done enough and it would just be a matter of count back to see who would take home the cup. However, little did they know that out there was one man who would crush their hopes by coming in with an impressive score of 40 points. That man who in the 1st Major at the Welcombe had a terrible time was Noel Wright.
In 2nd place with a score of 39 points was Adrian Swaby whose game is certainly on the up & up and its only a matter of time before he's in the winner's spot.
In 3rd place on count back with 38 points and one of the two earlier leaders was DJ Jasper pushing the other player on 38 points Trevor Lammy out of the prizes.
The usual on course prizes fondly known as the "minor prizes!" were won by the following: –
Longest drive was a difficult one, into the wind and uphill on the 10th. Now I'm sure there are guys who said "I was longer" but if its not on the fairway it doesn't count. The winner was Chris Wilson.
Nearest the pin was won by another player from the second group, having seen Mick Taylor knock one in close, he'd given up by saying "no one will beat that" then knocked one even closer, winner chairman Junior Harris.
Nearest the pin in two was won by Allen Motsi and nearest the pin in three went to Carlton Donalds.
There were six winners of the Birdie hole, Trevor Lammy, Clyde Pile, Vassel Brown, Taylor McDonald, Justin Hinton and Mr Captain, Eddie Wedderburn.
The Order of Merit is now taking shape with DJ Jasper leading on 224 points followed by Lloyd Thomas on 192 and in 3rd place Justin Hinton on 188 points.
Thanks to Bewdley Pines for their hospitality and we look forward to playing there again.
We now move on to the 3rd Major at Glen Gorse golf club in Leicester to play for the Memorial Trophy.