Only one Branch in this Glen!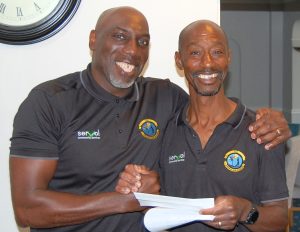 The third major event of the season was held at Glen Gorse golf club in Leicestershire. The event was well attended with 38 CGS members and guest Richard Farrell.
The members in attendance would be competing for the CGS Memorial Trophy which was won in 2022 by Julia Regis who was not able to defend her title this year.
The Glen Gorse venue was played by some of the CGS members and was highly recommended. It may have been down to the time of the year but the course wasn't well received by the majority in the field. Some of the fairways resembled a farmers ploughed field with humps and borrows running the length of some. Its a shame they didn't level them when it was decided to create a golf course there, the greens didn't fair much better either. It was a disappointment and this was echoed by those who'd played it before, they said it wasn't at the same quality as was experienced the last time they visited the course.
With the course conditions aside there was still some golf the needed to be played and as usual some players are always able to rise above the conditions and except them for what they are and just play. The man of the moment was George Branch, who's hard work off the course on his game as started to pay dividends, his 36 points score was enough to take the Memorial Trophy pipping Carl Douglas on count-back. In third place was Dave Brown who also won on count-back from Micky Taylor and Trevor Lammy who all scored a respectable 33 points.
The on-course prizes for nearest the pin's and longest drive was awarded to the following players:
Nearest the Pin was won by Junior Harris who also won Nearest in Three, Nearest the Pin in two was won by Carlton Tomlinson and the longest drive prize went to Carlton Donalds.
Congratulations to all the winners especially George Branch a well deserved victory.
The next event for the Captains Trophy will be held at Lillishall Golf Club on the 11th of June.