The Captain takes the honours at Lilleshall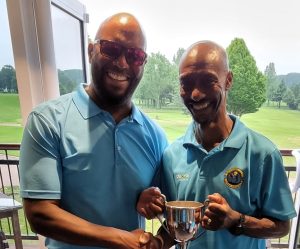 The CGS travelled up to the Lilleshall Golf Club in Shropshire to contest this year's 4th Major the Captains Trophy.
As usual a good field of 38 players turned up for the challenge, of which there were three guests, Joseph Sabroche coming all the way from Cambridge and had been eagerly looking forward to playing in his first event and returning guests Andy Lynch & Bob Giles.
This was the CGS's second visit to Lilleshall Golf Club following last year's visit which was enjoyed by all that attended. With the rave reviews from that event, it is no wonder it was one the first options when choosing the courses for this season and possibly every season going forward.
Once again, the course was in very good condition and it was great to finally play on greens that didn't consist of lumps and bumps from previous hollow tining.
Well after a day of good golf players came together in the clubhouse for a bite to eat and to find out who had come out on top.
So, to the results which were as follows
1st place and winning his first CGS event of the season was Mr Captain Eddie Wedderburn with 38 points and consisting of 5 birdies.
2nd place Landis Brookes with 37 points
3rd place Carl Douglas with 35 points
Longest Drive was won by Chris Wilson
Nearest the pin won by Dale Bromfield
Nearest the pin in 2 – Chris Wilson
Nearest the pin in 3 won by one of our guests Andy Lynch
Birdie Hole which was hole 14 and was won by Mr Captain, Les Lawrence & Chris Wilson.
Current standings in the order of merit so far are as follows: –
1st Place – DJ Jasper 358 points
2nd Place – with 328 points is Dave Brown & Justin Hinton
4th Place – Carl Douglas – 320 points
Finally, we would like to thank Lilleshall Golf Club for their hospitality and especially from their members, who were very friendly and made us feel welcome.
Another reason why the players love this course so much.
The CGS tour now continues on to Maxstoke Park Golf Club to contest the Secretary's Trophy.